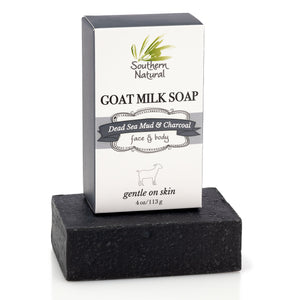 Dead Sea Mud with Activated Charcoal Goat's Milk Soap
Dead Sea mud is rich in natural minerals that nourish skin, especially when it's troubled with acne, psoriasis or eczema.
Activated charcoal binds to impurities and toxins helping to detoxify skin naturally - ideal for cleansing acne-prone skin. 
Goat's milk contains natural fats that add moisture to the skin. Goat's milk is also high in protein and vitamins, providing your skin with endless benefits.
We only use natural oils in our soaps. This one has olive, coconut, and sustainable palm oils for superior moisturizing power. 
Peppermint, rosemary, and eucalyptus essential oils have antiseptic and antimicrobial properties. 
Sign up for our subscription service today to save 5% on your order!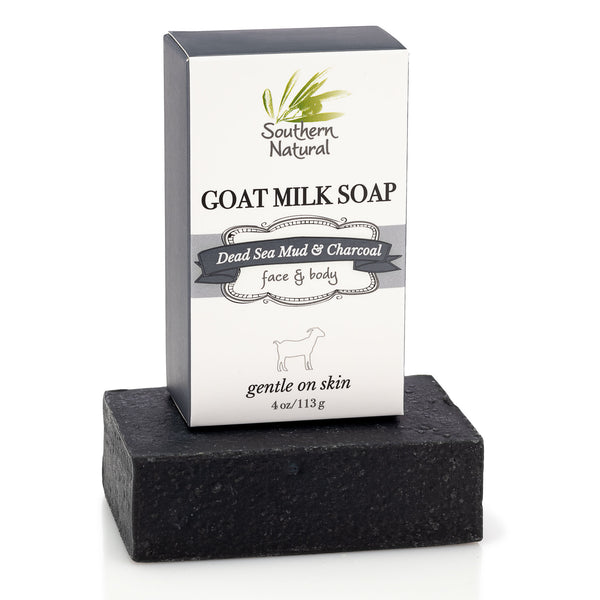 Ingredients
4 oz. Bar of Soap
Dead Sea Mud

Activated Charcoal

Olive Oil

Coconut Oil

Sustainable Palm Oil

Goat's Milk

Peppermint Essential Oil

Rosemary Essential Oil

Eucalyptus Essential Oil
One of my favorites
The Dead Sea Mud with Activated Charcoal Goat's Milk Soap is my must have facial soap. It is an integral part of my routine to keep my 48 year old face looking it's best. Thankful for the sale so that I could stock up.
Love this soap!!!
I recently won the giveaway of ten bars of soap. I wanted to wait and give a review after I had tried most of them. They are all wonderful and really make my skin feel clean and smooth. I love the patchouli, but all were great that I have tried so far. A big thanks to Southern Natural. I highly recommend their products!!!
BEST SOAP EVER!
I have had acne since I was thirteen years old! As a twenty year old I often find myself feeling frustrated with the endless pimples on my face and back. I had a roommate at university who was from South Carolina. She let me use the soap on my face. For the first time ever, my face wasn't extremely dry. I bought my own soap and my blackheads and pimples are clearing away. I'm just so grateful that I found this website, and I can't wait to tell everyone I know about it!
Dead Sea Mud with Activated Charcoal Goat's Milk Soap
Such a refreshing and clean soap.
Q. Why do you use goat milk in soap?
A. Because of the nutrients contained in goat's milk it has been used throughout the ages in many bath and beauty products. Goat's milk is full of vitamins, minerals, proteins and fatty acids which are great for the skin. It also contains a lot of fat which creates a very moisturizing bar of soap.
Q. Why use natural goat milk soap instead of common commercial store bought soap?
A. Commercial soaps are nothing more than harsh detergents, chemicals and petroleum products that strip away your skins natural oils, often leaving you with dry, itchy, irritated skin. That's how it left mine for 12 years. In the soap making process glycerin is naturally produced. Glycerin is very beneficial in keeping your skin moisturized and healthy. In the commercial soap making process the glycerin is extracted from the soap and then sold and used in other beauty products. This is another reason commercial soaps leave your skin so dry. Our goat milk soap with it's naturally occurring glycerin will leave your skin soft and moisturized.
Q. Is there lye in your soap and how do you make it?
A. We do use lye in the soap making process. You can't make soap without it. When our soaps are done curing there is no lye left in them. We superfat our soaps which means that we use more fat than what is required for the lye to react with. This creates a very moisturizing bar of soap.
We use the cold process method to make our soap and then let it cure for 6-8 weeks before selling it. This creates a mild, harder bar of soap that will last longer.
Q. What do you scent your soaps with?
A. We use pure essential oils and phthalate free fragrance oils. Our pure essential oil soaps don't have any fragrance oils in them. We also make three unscented soaps. They include our Castile Soap, which is the one we recommend for those with severe skin issues, an unscented oatmeal & honey soap and then a plain unscented bar.
Q. Why don't you color your soaps?
A. We believe in keeping our ingredients simple and natural. The more ingredients used the more likely someone will have a sensitivity to it. Sometimes less is better.
Q. Do you wholesale your soap?
A. Yes, we offer wholesale on our products! Call or e-mail us to work out the details. 205.353.3656 or info@southernnatural.com
Q. Does your soap help skin conditions such as eczema, psoriasis, rosacea, sensitive skin, acne, contact dermatitis, etc?
A. We can't make any claims about our soap curing any skin conditions.
Many of our customers have had relief from these skin issues while using our soap. Others have stated that their skin feels more moisturized. Our soaps are very mild; truly a soap for sensitive skin or any other skin type. For those with very sensitive skin our unscented Castile Soap is recommended.
Q. Can I use your soap if I have a milk allergy?
A. We would advise you to try our soap on a small area of skin first, to make sure you won't have an allergic reaction before you use it on your whole body.